Hobbyland-Customized SCX24 Scale R/C Crawler
SCX24 - Hobbyland Version

The SCX24 micro crawler from Axial is one of the most exciting additions to the Axial line. This
mini crawler is capable of both indoor and outdoor crawling and provides a fun sense of scale in
whatever environment it is in. The SCX24 is capable of conquering the biggest obstacles and is
a worthy addition to your RC garage or is a great starting point for people who are new. It's
small stature and low price can be deceiving as well. This is a true hobby-grade RC crawler.
Multi link suspension, true scale, licensed wheels, tires and bodies and most importantly,
upgradable parts. The SCX24 comes with everything you need to run in the box, even batteries
for the controller! These rigs start at $110 for the Deadbolt and $120 for the Jeep and Chevy
C10 bodied options.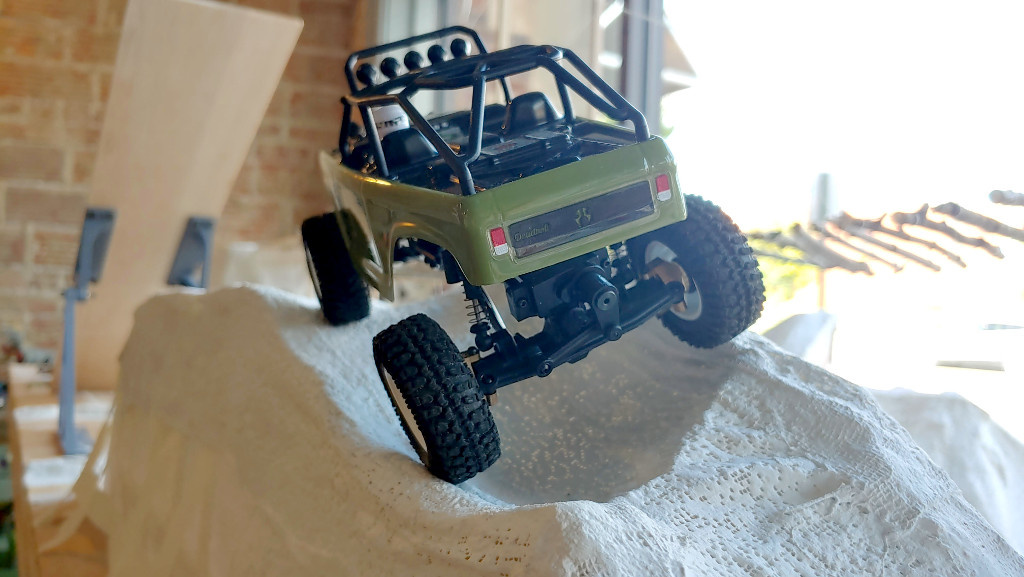 Mods:

1. Weighted brass parts: These parts are an amazing addition you can add to the car in
order to lower it's CG (Center of Gravity) to help assist with climbs and descents. It's
especially recommended to add these on the rear of the car like I have as that is the lightest
part of the car.

2. Adjustable Shock Towers: I added a set of front and rear adjustable Shock Towers from
Hot Racing. These provide you many more options in terms of where you can screw in
the shocks to the body allowing you to alter the stance of the truck and raise lower to
your desire.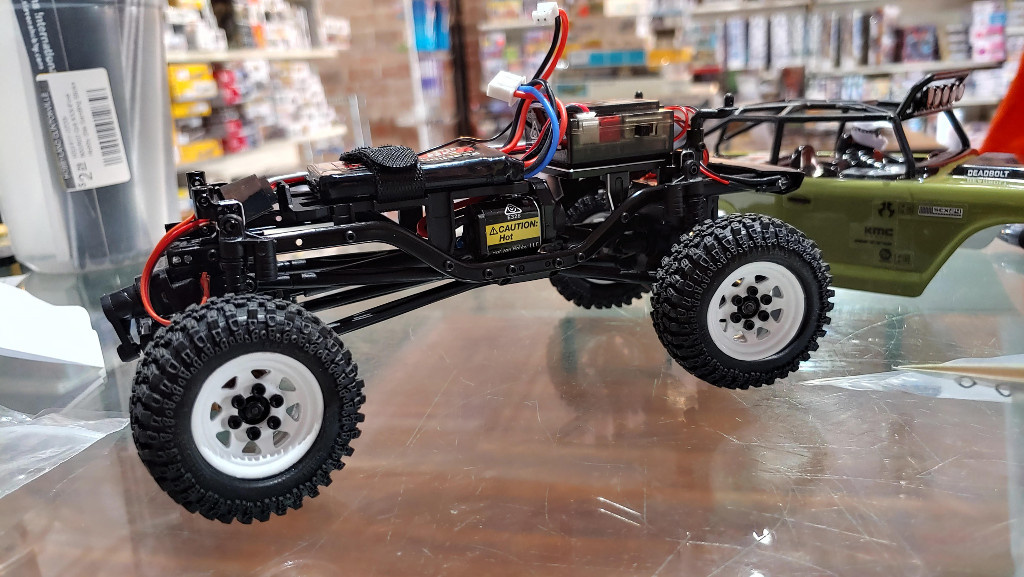 3. Rear Wheel Steering: The most comprehensive and crucial modification that I added to
this truck was the inclusion of rear wheel steering. This allows significantly more range of
motion and tighter turning angles. The mod was fairly simple as Axial sells the entire
front steering assembly already put together. All you need to do is swap out the front
axle with the rear, install any micro servo.of your choice (I went with an AS-1 which
comes stock on the front) and hook that up into the third channel on the ESC/Receiver
combo. There is a switch for the third channel on the included transmitter that allows you
to engage full left, right and neutral positions to the rear wheels. I high recommend this
mod, especially if you plan on doing right and technical crawling courses and
environments.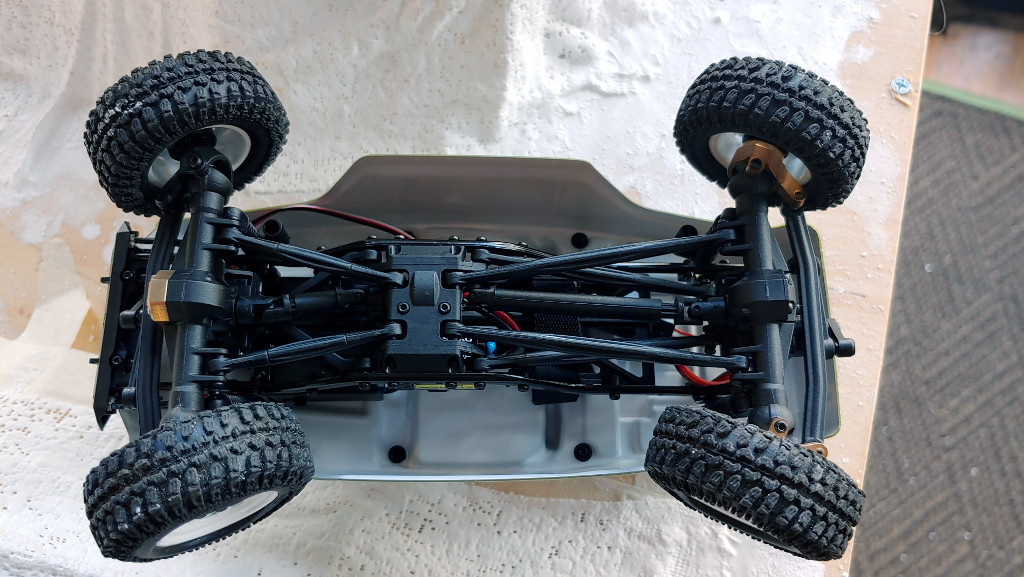 4. RC4WD Aluminum Beadlocks wheels and Rock Lox 1.0 tires: This wheel and tire combo
is great for both scale look and performance. The Beadlocks rims are three pieces with a
hub and six screws for each wheel to join the pieces together. These wheels are quite
complicated due to their design in how they lock into the bead so some patience will be
required when putting them together. A trick I used to help was I used a paper-clip as a
guide for the rim parts and the hub as the screws that come with the wheels are a tad bit
short to reach into the hub easily. These rims are.mounted on a set of Rock Lox which
provide extremely good traction through help of a design featuring lots of nubs for the
tire to grip on as well as using a nice soft sticky compound. They come with inner foams
pre-installed but can be removed if you want a softer tire and more surface area when
you compress. This wheel set-up is very much something to recommend to those who
are running the stock Chevy C10 body as they not only look stellar but also the smaller
tire size lends itself better to a pickup truck style body.

Parts List with Prices:
1x AXI31619 AS-1 Micro Servo $15.99
1x AXI31609 SCX24 Front Axle (Assembled) $24.99
1x AR390196 Servo extension cable $3.99
1x HRASXTF21H Brass Steering knuckles $26.88
1x HRASXTF12CH Brass Diff Cover $16.88
1x HRASXTF28301 Aluminum Front & Rear Adjustable Shock Towers $33.88
1x Set RC4ZW0111 Stamped Steel Beadlocks (White) $24.99
2x Pair RC4ZT0028 Rok Lox 1.0 Micro Comp. Tires $6.99