Posted on
By Brian Bontrager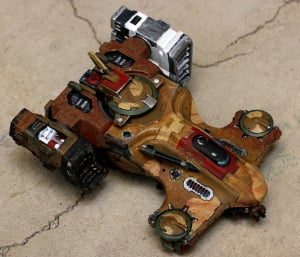 What's your model's story?
Modeling as Story-Telling
One of the great things about building models is the opportunity to tell a story. Assembling a kit is fun, and sometimes technically challenging. Putting a story behind your creation can drive finishing choices and set your version of a model apart from others.

One of my favorite projects was an overhaul of a Warhammer 40k T'au Empire Devilfish hovercraft. I acquired this model pre-built from a friend as part of a collection he no longer used for gaming. I wanted to put my own spin on the army, so I stripped it down to the bare plastic and began my own reconditioning. I wanted to end up with something unique, that would stand out on the battlefield and not simply reproduce the stock design. As I began the process a story formed that inspired the final results.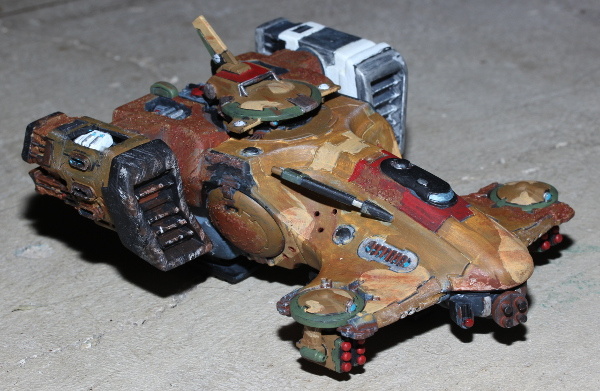 Starting with a Concept
In the 40k lore, the T'au empire is a technolgically advanced alien race with internal struggles, on top of its external conflict with other races in the galaxy. To craft the story of my army, I imagined a T'au splinter faction trying to fight using whatever resources and equipment they could cobble together. On a fringe planet far from the T'au home world, the faction finds a decrepit Devilfish hovercraft in the swamps and repurposes it as a troop transport and support vehicle.
With the concept in mind, the fun began. I didn't build this model, so I had no emotional attachment to its construction. This gave me the freedom to dive into the "decrepit and repurposed" themes. I started with not just weathering, but outright damaging the Devilfish. Drills and files added new holes and distressed surfaces. Breaking an engine cowling open and rebuilding it made an "exploded-and-repaired" look possible.
Telling the Story
How did it end up in the swamp?
This Devilfish was severly damaged in battle and suffered catastrophic engine failure and came to rest in the watery marshes. There it sat for years, rusting.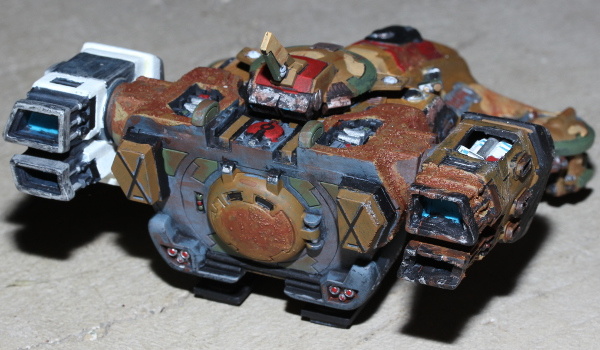 In my model, extensive use of rust tells this part of the story. I used a Games Workshop ground texture paint with sandy grains already mixed in, but adding sand to other paints can get the same effect. I covered this with a rust color for a great blistered look.

About that Engine Failure...
To get the Devilfish running, they were able to salvage the cowling of one engine, but had to do extensive rebuild of the internals. This engine is still scorched from its explosion, and the louvers are damaged or missing. The top panel was lost, exposing the new engine (crafted from spare parts from another model's sprue). These engines are typically empty space in this model, so cracking one open and adding elements brought an idea of the engineering not part of the standard model.
The other engine was lost entirely, so they had to "appropriate" a stock engine from another ship, or maybe a repair facility. This "new" engine is glossy, traditional colors, and stands in stark contrast to the other. (They faction is busy - they don't have time to repaint everything.)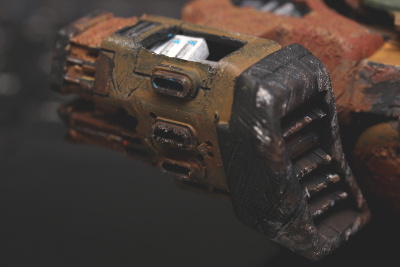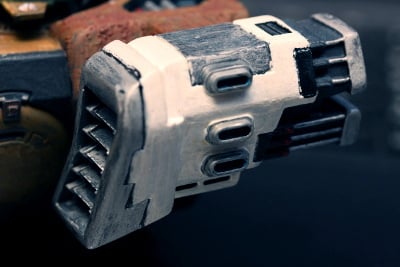 Besides the mismatched engines, other elements of old vs shiny-new panels, or bright silver reconditioned mechanics let us discover which parts of the ship have been hastily repaired with whatever was on hand, while other parts of the hull are left as found.
Personal Touches
Hiding is important to this faction, so they have repainted the craft from the traditional white color into a rough camouflage. It's still seen a bit of action since reconditioning, so a liberal wash with watered-down rust brings some dirt and grime to various parts of the hull.
The T'au Empire's chief enemy are the Orks. The pilots take pride in recording kills of Ork vehicles.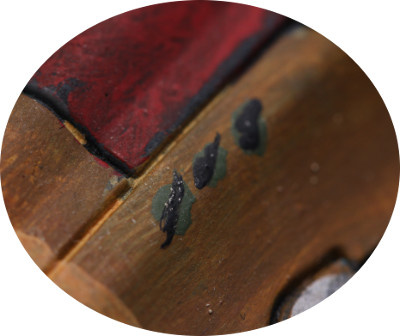 This faction is a member of the "Farsight Enclaves", a sect that uses a red emblem in lieu of the traditional T'au battle insignia. Red accents throughout bring this identity to the unit.

What Stories do your Models Tell?

Send pics and your stories to the shop ([email protected]) and we'll post them here!